Happy to announce that Skein's Niffler platform has been awarded a place on the competitive Crown Commercial Services (CCS) G-Cloud 10 framework. Following a rigorous procurement process, Skein can now offer its user analytic suite of tools to public sector organizations. Find the Niffler profile on the Government's Digital Marketplace. Skein is already is a part of the Digital Outcomes Specialists 2 framework and now extends its reach across the UK public sector including local and central government with the cloud service offering.
Niffler uses machine learning to understand the patterns of user interaction with a website, app or software. It automates User Interface analytics, helps with the UX planning to maximize engagement and conversion rates, provides recommendations for marketers and designers, and enables product-market fit discovery.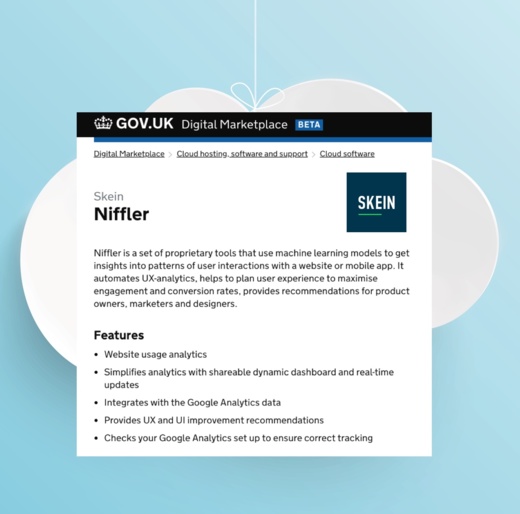 About Skein
Skein is a technology innovation company. We are on the mission to make tech innovation efficient, scalable and user-focused. And that's what Skein delivers. Founded in 2009, the global company has clients in London and Kyiv. Customers include brands such as Sky and TP-Link, fintech companies and tech startups Cools, C24, media agencies including Chalk Global.